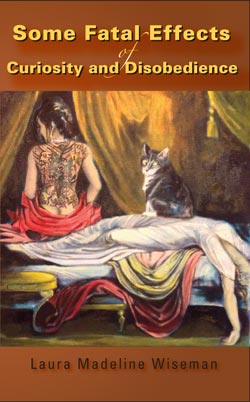 I'm very excited to have my new book, Some Fatal Effects of Curiosity and Disobedience now available from Lavender Ink. It is a campy, contemporary retelling of the Bluebeard myth, that charts the love of three sisters who each marry the same man upon the demise of the sister who preceded her. Bluebeard is usually framed as a story of blood and gore, but this telling focuses on the love each of his unfortunate wives felt, the first blush of romance and young marriage, the complicated turns of mature desire and the past we bring into our present affections.
When I went looking for cover art, I asked Les Femme Folles and Les Femme Folles Books editor Sally Deskins if she knew of any artists who had created anything that might make the perfect cover art for a bluebeard retelling. She suggested several artists, some of whom she'd recently featured in her journal and others in the Les Femmes Folles 2014 Calendar,  a calendar that featured art by artists like Wanda Ewing, Bonnie Gloris, Rachel Mindrup, Kristin Pluhacek, Megan Loudon Sanders, and Lauren Rinaldi. I researched these artists and others and then read the interview with Lauren Rinaldi in LFF. Here's her bio:

Lauren Rinaldi is an artist whose work tells intricate and personal stories exploring the meanings of encountering the unexpected through painting.  Her works depicting the female figure are meant to inhabit the space where the line between sexual empowerment and objectification is blurred. She draws inspiration from children's books, old Hollywood, art history, meditations, memories, badly written paranormal romance novels, her cat and her surrounding environment. Lauren currently lives and works in Philadelphia with her husband and son, and is represented by Paradigm Gallery + Studio.
The interview featured this beautiful piece:
Lauren's artist description of the piece:
Desire's Conquest and Demise
The Nightmare, which depicts an incubus, a horse and a sleeping woman. In my painting, the incubus is replaced by my deceased cat. The woman takes a position believed to encourage nightmares, and the horse (or mare), in my piece, is replaced by another woman. It is meant to simultaneously show a woman dreaming and the contents of her dream or fantasy. This painting is part of my most recent series of works exploring ideas about the pursuit of fantasies resulting in deterioration, decay or even death.
I contacted Lauren to see if she'd be interested in having her art on my book. She said, "Yes." Yay! Check out more of her fabulous work here: http://laurenrinaldi.tumblr.com/ and http://www.laurenrinaldi.com/.
I gave a reading from Some Fatal Effects of Curiosity and Disobedience and more late last month in West Virginia. I'll be reading from my work soon in Nebraska, as well as talking about my work on the radio. Here's the information about those events. I hope to see you soon!
Reading and Interview with Michael Lyon & Rachel Mindrup
KIOS-FM, Omaha Public Radio
8:30 am, Monday, April 21, 2014
30th & Leavenworth, Omaha, NE
Reading and Show of Intimates and Fools with Fran Higgins
Les Femmes Folles
6 pm, Monday, April 21, 2014
Apollon, 1801 Vinton St
Omaha, NE 68108
Reading from Intimates & Fools and more with Sally Deskins and Cat Dixon
Noon, Tuesday, April 22, 2014
Connect Gallery, 3901 Leavenworth St
Omaha, NE
Reading of Women Write Resitance and more
Nebraska Book Festival
3:15 pm, Saturday April 26, 2014
Omaha, NE
Interview with Karen Sokolof Jovitch & Jody Vinci
It's the Beat Radio show, Mighty 1290 KOIL (am)
noon-1pm, Saturday May 3, 2014
9740 Brentwood Rd
Omaha, NE 68411